"It's the personal relationship with a marketing firm that I value. We needed a company who knows us, and who knows the area where we're located. Dot Your I takes the time and the care to customize their work for us."
Jill Kowalski
VP and CFO, Kowalski Heating, Cooling, and Plumbing
Client
Kowalski Heating, Cooling, and Plumbing
Industry
HVAC, Home Services
Company Size
10-25 Employees
Services Delivered

Branding: logo and color palette
Website design, development, and management
Video production
Website content development
Social media management
Search engine optimization
Blog development
Google Business Profile setup and strategy
Google Local Services Ads setup and campaign management
Offline marketing strategy development
Dot Your I Deliverables
Here are some samples of what we created for Kowalski: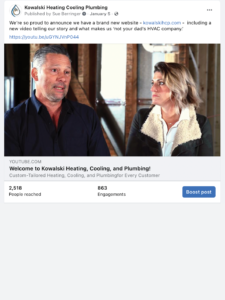 The Challenge
Build the brand for a family-owned HVAC and plumbing company that stakes its reputation on custom work in a commodity field.
Jason and Jill Kowalski run the kind of HVAC and plumbing business where the customers regularly leave their doors unlocked for the technicians. "We work hard to build trust, and to give our customers continuity and peace of mind about who is working in their home," Jill says.
One ingredient critical to this trust is the personalization that the company prides itself on. While they install manufactured products – like furnaces, air conditioners, water heaters, and sewer lines – they design and build custom fittings, connections, equipment housings, flow systems, and countless other supporting items. Premium tailoring is always part of the package.
"Every home is different and every customer is different," says Jill. "There is no cookie-cutter HVAC or plumbing project."
Yet for years, the company's website and general online presence did seem cookie-cutter to Jill. Their marketing partner was a large firm that served many similar businesses, and it wasn't capturing the special Kowalski culture or work ethic.
"Our previous marketing firm was trying to use their standard formula, and it wasn't working for us. They didn't know our company or our city, and those things matter in the work we're doing inside people's homes. I had to explain the same things to a different person at the firm multiple times per year. Dot Your I is focused on serving local businesses, and I have direct communication with their leadership and team. So we've eliminated all those issues."
The Solution
Refresh and reintroduce the company with a completely new, totally unique digital presence built for growth.
Jill and Jason chose Dot Your I for its personalized services – something they strive to bring to their own customers. Dot Your I partnered with Kowalski in the following ways:
Business Goal
Create a brand look and feel to reflect Kowalski's skill with custom HVAC work
Marketing Activities Delivered
Developed a new logo and visual identity
Designed and built a modern website to mirror the company's creative style
Tailor the brand messaging to emphasize Kowalski's high-quality team, customer service, and expertise
Created original website content for all services, products, practices, and employees
Filmed and produced a company profile video
Write a monthly blog backed by a keyword-informed content calendar
Grow brand engagement and leads in the South Hills of Pittsburgh, PA
Manage social media, including content, graphics, and ad campaigns, across all social accounts
Augmented the company's Google Business Profile and created a profile optimization strategy
Improve search rankings and web traffic, particularly from local consumers
Developed an organic SEO strategy that includes keyword targeting, a content plan for increasing brand authority, online customer communication, and quarterly SEO reporting
"As small business owners, you never have enough hours in the day. So to hand off our marketing and know that it is done correctly and organized well – it's so much less to worry about. It gives us brain space to work on what we do need to worry about, which is our work, our customers, and our guys."
The Results
Increased local visibility
Within the first quarter of launching the new website, Kowalski Heating, Cooling, and Plumbing won placement in the Google Local Pack as well as on the first page of Google search results for a variety of keywords.
A personal marketing strategy and partnership
The Kowalskis are specific about their brand identity and vision for growth. Now they have a marketing plan that matches. It provides actionable steps toward their goals, including the channels and tactics to use for brand development, customer engagement, and product promotion.
A portfolio of brand assets
A company video; 100% original, owned content; a proprietary blog; and reusable social graphics are among the collateral that Kowalski can use in all its promotional efforts.
A dependable lead generation engine
With its stronger online profile, recurring expert content, and growing backlinks, Kowalski is able to reach more customers who are searching for their services, increase their traffic, and generate more sales.
"We know we are portrayed well in the HVAC world, and now we are portrayed well in the online world too. Our website feels like us – it is custom and polished beyond what 'family owned' usually conveys. I have never felt like that about our site. And now I do."